Assumptions for usage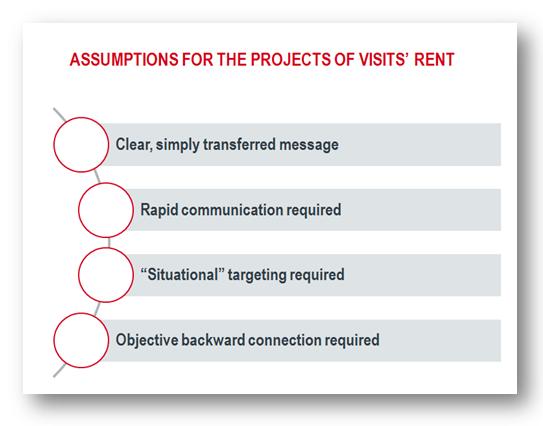 The rent of visits will be suitable in those situations when it is required to communicate correctly and accurately and to communicate the message of the product. This should not be identified with the sales of the product. Product managers confront such situations. However, often such tasks destroy the motivation. Besides, the retreat from strategic direction becomes expensive.
The "situational" targeting is an artificial term by which we only want to emphasize that in each case a product manager wishes to include or remove clients from the list of the addresses of the "Message" depending on the specifics of the situation. Most often he / she does not do that due to the absence of the possibility to reach the clients situated in various places due to too large difference of the expenses. Using regional representatives, there is no difference of the price within the visit, therefore a product manager may freely manipulate the list of addresses. This accordingly allows to choose the most optimum scope of the project.
While performing "test" marketing and pilot projects, it is very important not only to transfer the message, but also to receive the backward approach as impartial as possible. This allows to correct information, the form of transfer, etc., operatively. While performing this through the inner sales forces it is required to assess the "interest/non-interest" of the representatives. They are taught to become professional salespersons, however, this knowledge is applied not only to the direction "from company to client", but also backwards... Therefore sometimes it is simply more effective to hire a third party.
© 2012 UAB CSO Pharma Baltic